ISMACS International
International Sewing Machine Collectors' Society
Research

Manufacturers

If your sewing machine, accessory, or ephemera has a name on it, this is the place to start. If we don't have a listing for the name, please use the search function to see if there is any mention of it on our site.

General Information

Toy Sewing Machine Information




About Us

ISMACS News Magazine

ISMACS News

ISMACS News is the magazine of the International Sewing Machine Collectors' Society published four times a year for society members.

Feature Issue

ISMACS Membership

Joining ISMACS

The International Sewing Machine Collectors' Society is the premiere sewing machine collector's group. A quarterly magazine and access to our annual sewing machine auction are but two membership benefits.

ISMACS Email Digest

Joining the Email Digest

The ISMACS Email Digest is the place to ask all your sewing machine questions. You will be greeted by the internet's finest people and your enquiries will be answered by leading experts.
Featherweight Fever:
Those elusive cabinets and tables
by Walter F Fletcher
ISMACS News
Issue 55
April 1997
Also see the No. 68 Cabinet article from our Singer Cabinets Page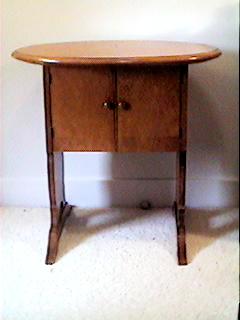 The Featherweight Cabinet
Ready for Use
WITH THE advent of the Singer Model 221 in 1933, the need for accessories to this new little portable became apparent. Singer over the years had provided a number of cabinet styles to go along with their machines. The Featherweight was no exception. The company offered a card table and cabinet built at its own cabinet factories located in the United States and Canada.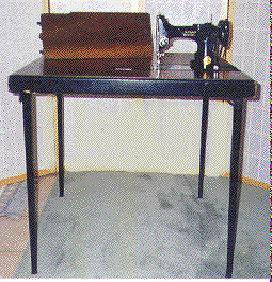 221 table
Also from Walter's collection
The card table, or utility table, "an ideal companion to the 221 - Portable for the small home or apartment", was 31.5-inch square and stood 28.5 inches tall. The table came in a variety of styles and colours over the years, contained better than average hardware and a removable insert about 1/3 of the way up from the lower right- hand corner. When removed, it showed a Simanco bracket that allowed for the placement of the 221 so that the surface was flush with the machine.
The table and insert would have identical serial numbers to show they were a matched set. One style table had wooden legs, top, and trim; another style went to metal legs and all wood top and trim and a third style was metal legs and trim with wooden top.
The exact progression as to styles and their changes is an on-going topic of discussion among Featherweight collectors. This may be due to when and where they were constructed in the various Singer factories.
This table was priced in the $25 to $30 range when new, and was available for the 221 most likely from the late '30s to the early '60s. An added option was a fold down drop section that doubled the size of the table and made it excellent for use as a cutting table.
The hardware for the extension allowed you to attach it any side of the table. The table was also an option for other Singer models such as the 301 Slant Stitch, 99, 404, 201 and 750.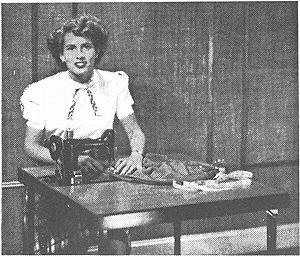 Bright idea for brighter sewing! The SINGER 3-Way Table has been created expressly for your Featherweight Portable. Mounted on sturdy legs, it has a large, smooth surface, richly finished in grained hardwood making it ideal for cutting or sewing. And remember you can use this table 3-ways: for sewing, card playing, or informal dining.
When you have finished sewing, your utility table can be easily, neatly stored away in a closet. Trim, compact, easy to collapse, occupying no more room than a card table . . . the SINGER 3-Way Table is the answer to women who want to save on space and yet have the full advantages of an efficient sewing area. A matching extension table, ideal for work requiring extra space, is also available.
The model numbers for all versions of the tables seems to have started with #308 and gone as high as #316 with the extension models having a -1/2 after them. Since this was the size of a card table, we can assume that it was also used to "provide a sturdy, smooth top table for a bridge game or general utility purpose," which would explain the availability of these tables and the condition of them when found.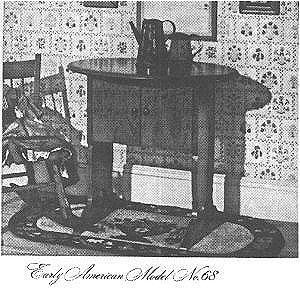 Early American in period, Singer Cabinet No. 68 is designed expressly for the Featherweight Portable. To use for sewing, simply remove the oval top and place the machine in the recess. The machine can also be removed from the cabinet just as easily and fitted into its smart carrying case for traveling.
The doors open to reveal a rack for extra spools plus storage space for the Singer Featherweight Portable when not in use.
Tastefully finished in maple, Cabinet No. 68's fine appearance will lend charm to any room.
An oval cabinet was also available. Made of birds eye maple hardwood and veneer, it was generally stained what appeared to be cherry or red mahogany. Possibly advertised as Model #68 cabinet, "a distinctive piece of period furniture made of carefully selected American Maple in the lovely Colonial style."
Its availability seems to have been from the late '40s through the mid '50s. It looked to be an occasional table, and unless one removed the top and exposed the opening for the machine you would think it was a child's play table.
The top oval is 20 x 32 ins, and when removed, reveals the work surface oval of 16 x 30 ins. Again the use of simanco hardware similar to the table for insertion of the machine. The base of the cabinet is 10.5" x 22 ins and stands 29 ins tall.
It contains a 12 install storage area with two outwardly opening doors where the machine was stored when not in use. When the machine is in place, the bottom of the storage compartment folds up to allow for your legs when sewing.
Also included is a small wooden compartment for accessories, an oval oil-can bracket, and a spool rack on the inside of the right door. All metal items bear the Simanco label and part number. The original price is an item yet to be established. Currently there are 12 or 13 known to exist with one reportedly being offered on the east coast of the United States for $2,500. Their rarity either being that there were not that many of them made or they, like the card table, were used for more than just their original purpose.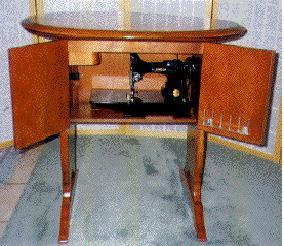 Walter's beautiful 221 cabinet
showing how the machine is
hidden from view
Much is still to be learned about the card tables and cabinets. Hopefully, as interest in the little Singer 221 grows, more will come to light not only regarding this but other Singer items. But for the Featherweight Fanatics out there, either one of these options is a valued addition to your Featherweight machine.
Notes: 1. "Singer" and "Featherweight" are registered trade marks of the Singer Manufacturing Co. 2. Items in quotation marks from original Singer advertising. 3. This article relies on information supplied by Krisi Santilla, FWF online survey, personal ownership of both table and cabinet, and conversations with other Featherweight owners around the country too numerous to mention.
Click here to go to the Singer Cabinets page to view more information on the Featherweight Cabinet and Table
Joining Us

About Us
ISMACS is an organization totally independent of all sewing-machine manufacturers, past or present and is not affiliated with any of the companies mentioned in these pages. Please Note: Do not contact any ISMACS official in an attempt to solicit a valuation - it is not possible other than by hands-on assessment and your request will be ignored.