Cabinet No. 68 for the Singer 221 "Featherweight"
Early American in period, Singer Cabinet No. 68 is designed expressly for the Featherweight Portable. To use for sewing, simply remove the oval top and place the machine in the recess. The machine can also be removed from the cabinet just as easily and fitted into its smart carrying case for traveling.
The doors open to reveal a rack for extra spools plus storage space for the Singer Featherweight Portable when not in use.
Tastefully finished in maple, Cabinet No. 68's fine appearance will lend charm to any room.
ARTICLE: Featherweight Fever: Those Elusive Cabinets and Tables
Various Photographs of the No. 68 Cabinet.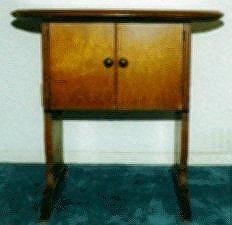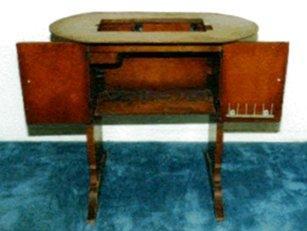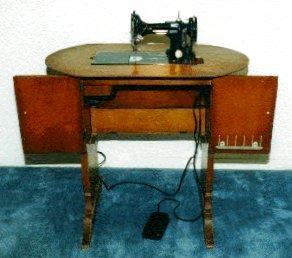 The Following Compliments of Sharon Reese: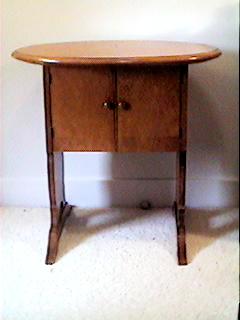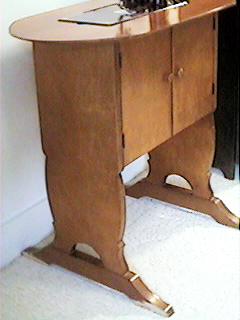 The featherweight cabinet looks just like an occasional table. At the antique store where I bought this, if the cabinet doors hadn't been open revealing the spool pins inside, I would have never noticed this was a FW cabinet even though I knew what one looked like. (It was covered with a tablecloth and had plates and a lamp on it.)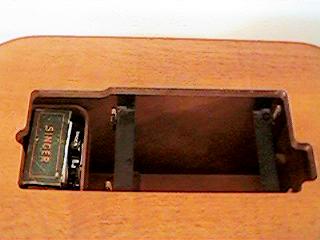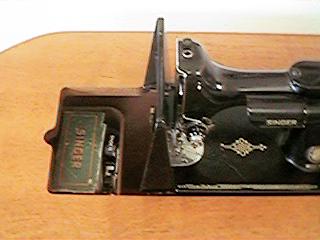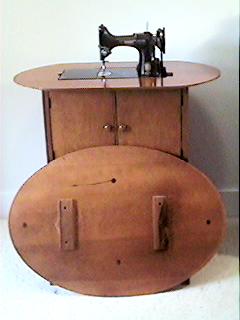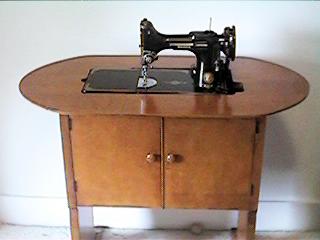 The cabinet has a removable lid that reveals a cutout much like the ones in the FW card tables except that there is a wood compartment for storing attachments underneath the machine. The underside of the lid has posts that fit the cutout exactly, so the lid won't move when it's on the cabinet. The lid at 21.5" x 32" is slightly larger than the top of the cabinet (16.5" x 31.25"). The cabinet with lid is approximately 29 5/8" tall. The cutout for the machine is 15-3/4" long by 7-5/8" wide at its widest.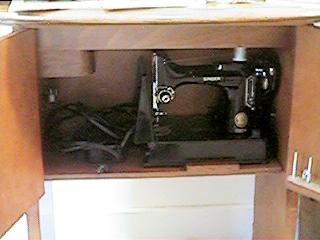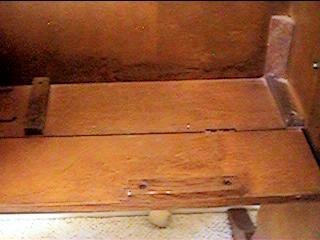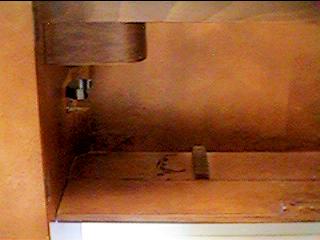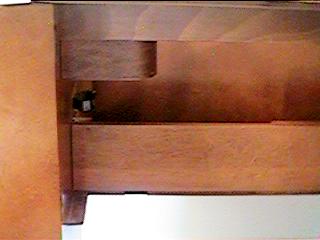 You can just see the spool pins on the cabinet door on the right. The FW fits very snuggly inside the cabinet - there's barely enough clearance for it. The FW is held in place by three wood pieces as seen in the top right picture. The bottom two pictures show how front half of the cabinet floor flips up to give your knees room when sewing.