Wheeler & Wilson No.1 in a bow-front mirrored cabinet
by David Hay
ISMACS News 106
March 2012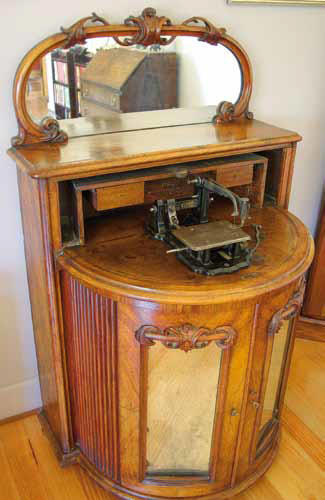 I recently inherited this lovely old machine, which has been in my family since the early 1900s. Before describing the machine, allow me the liberty of a few words on its provenance.
The machine came from Redditch (the centre of the British needle industry) and was first owned by the Allcock family. Samuel Allcock was a prominent fish-hook manufacturer, a business he took over from his father in 1848. The company also made sewing machine needles. Samuel married twice; his first wife passed away in 1878 and his second, Jane Playfair, was the widow of Charles Playfair, another prominent participant in the Redditch fishhook industry.
My great-grandmother, Mary Russell Woodfield, was the eldest daughter of William Woodfield, who himself had a thriving needle manufacturing empire in Redditch. The Woodfields lived in a grand house, "Elmsdale" (it sadly no longer exists) which was built right next door to "The Cedars", a similar house where the Allcock family resided. now used as a nursing home. Mary, and one of Samuel Allcock's daughters, Florence Mary (May) were childhood friends.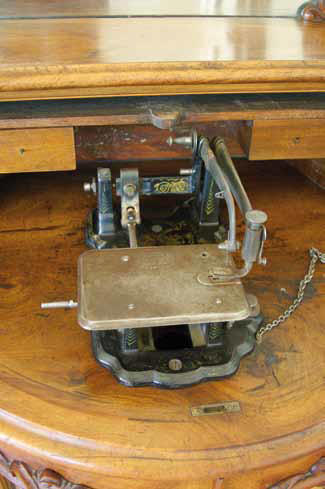 Mary came to Australia in 1875 to marry Edwin Thomas Harris, the son of Joseph Harris, a sewing machine manufacturer in Handsworth, Birmingham (see ISMACS News 105). I have often wondered if their acquaintance was made with the connection to the sewing needle manufacturing side of the Allcock business; almost certainly it was, as Harris needed needles to supply with his machines. Edwin was a successful businessman in Townsville, but disappeared under mysterious circumstances in 1905, leaving Mary struggling to raise their two sons. She returned to the family home in Redditch with my maternal grandfather (Bert) where she stayed until 1916. Following the death of her own father, she came back to Australia, purchased a home in Sydney and lived with my grandparents until her death in 1943.
Before returning to Australia, Florence offered Mary a piece of the furniture from the Allcock home in Redditch as a memento of their childhood friendship. Samuel had died in 1910, and I can only suppose the Allcock family was disposing household possessions. Mary chose the sewing machine. She often told my grandmother it brought back happy memories of the two girls playing, whilst Mrs. Allcock sewed dresses on the old treadle machine. Thus it found its way to Australia, where it has been in the care of my family for almost a century.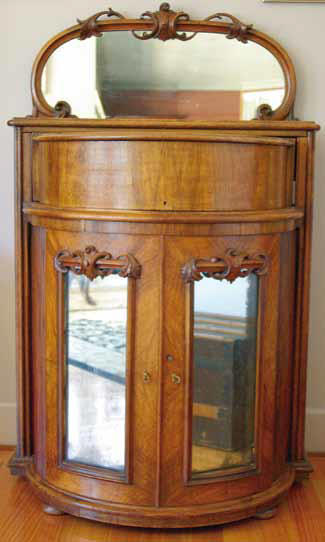 So to the machine itself. The head is a No.1 and the bright parts would originally have been silver plated. It is powered by a leather belt operated by a treadle in the lower part of the walnut cabinet. The two mirror fronted doors slide open to reveal the treadle fittings in a carpeted enclosure. The cloth plate of the machine is inscribed: Wheeler & Wilson M'fg Co. Bridgeport Conn. A.B.Wilson's patents Nov 12th 1850, Aug 12th 1851, June 1st 1852, Dec 19th 1854 and licensed under E.Howe Jr. patent of Sept 10 1846. No 231644.
The serial number dates the machine to 1866. The presser foot has a glass insert to allow the sewer to view the stitch being formed, a particular feature of the W & W machine. I have been unable to find any markings on the cabinet to identify its maker. However, I have seen, a very similar machine and cabinet in Ray Rushton's London Sewing Machine Museum collection.
I do not intend to apply any restoration work to this machine. Rather, I prefer the term "conservation". To that end I have applied a coating of light clock oil to all the exposed metal parts. Clock oil has the advantage of being sulfur-free, thus maintaining its acid neutrality with any absorbed moisture. Further, the viscosity is such that it does not retain dirt or grit which can be highly abrasive, an enemy of all moving parts.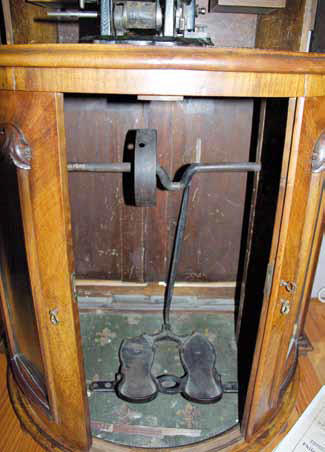 This old machine has given both me and my forebears a great deal of pleasure for many years, and I am sure will continue to do so for my own children in the years to come.
David Hay