ISMACS International
International Sewing Machine Collectors' Society
Research

Manufacturers

If your sewing machine, accessory, or ephemera has a name on it, this is the place to start. If we don't have a listing for the name, please use the search function to see if there is any mention of it on our site.

General Information

Toy Sewing Machine Information




About Us

ISMACS News Magazine

ISMACS News

ISMACS News is the magazine of the International Sewing Machine Collectors' Society published four times a year for society members.

Feature Issue

ISMACS Membership

Joining ISMACS

The International Sewing Machine Collectors' Society is the premiere sewing machine collector's group. A quarterly magazine and access to our annual sewing machine auction are but two membership benefits.

ISMACS Email Digest

Joining the Email Digest

The ISMACS Email Digest is the place to ask all your sewing machine questions. You will be greeted by the internet's finest people and your enquiries will be answered by leading experts.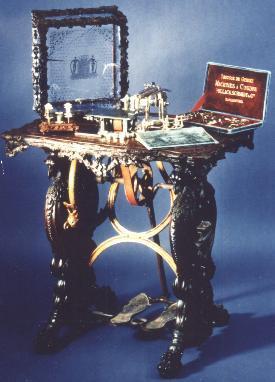 The Royal Connection
by Graham Forsdyke
(July 1997, ISMACS News)
A rare Wheeler & Wilson-type machine with royal connections is due to break records when it is sold at Christie's in London this month.
Queen Victoria's eldest daughter, Victoria Adelaide Mary Louisa (known as Vicky) was born in 1840 and 18 years later married Frederick, Crown Prince of Prussia, who was to become Kaiser Frederick III.
Their first son, born in 1859, was the future Kaiser Willhelm II. Seven other children followed.
To look after this large family an English widow, Mrs. Wakelin, was employed as head nurse with the Potsdam household from about 1862 until some time in the 1880s. In 1886 she remarried after returning to England.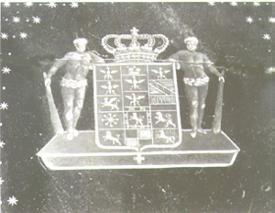 Among the gifts she received from the Imperial household when she left was the Princess's . It had been specially made by Pollack & Schmidt at the comapny's American Sewing Machine Factory in Hamburg.
Obviously no expense had been spared in its construction. The machine was covered with ornamental engraving under a silver gilt finish. It came with a cut glass cover with Prussian and British royal coats of arms.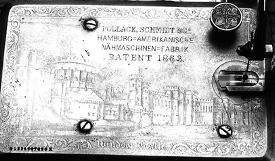 The oak treadle was carved with Imperial eagles and, as a reminder of home, the stitch plate was engraved with a view of Windsor Castle.
Accessory boxes and instruction manual were bound in blue velvet with gilt brass monograms. Even the ivory cotton reels were carved with a crown motif.
The Princess was said to be enthusiastic about new technology. By the time Mrs. Wakelin retired the machine would have been outdated, but it obviously made a fine present to a much loved servant who had probably used the model as part of her duties.
Newsflash
(July 11, 1997)
The most expensive ever sold went for a total of 23,500 pounds sterling -- that's over $41,000 -- in auction in London today (Friday).
The machine, a Wheeler and Wilson clone made for the German Royal Family in 1865 is featured in the current issue of ISMACS News. (Issue 56)
It has been bought by an English eccentric who does not display his machines to the public.
However this silver and gilt masterpiece will be on view at next year's ISMACS Convention together with other examples from this hidden hoard which will go on public view for the first time ever.
Booking forms for the convention will be in the next issue of ISMACS News but make a date in your diary now for the weekend of May 8-9-10, 1998. ~~GF
Joining Us

About Us
ISMACS is an organization totally independent of all sewing-machine manufacturers, past or present and is not affiliated with any of the companies mentioned in these pages. Please Note: Do not contact any ISMACS official in an attempt to solicit a valuation - it is not possible other than by hands-on assessment and your request will be ignored.