Singer Zigzaggers
Singer Zig-Zag Attachment, uses cams that set into the top to make different stitches, slant shank version shown:
Another ZigZag attachment can be found on the Fashion Aids page.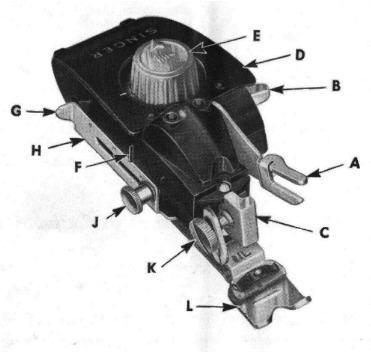 ZigZagger Part Numbers are as follows: (from Singer ZigZagger manuals)
Part number 160620 is the ZZ that does not use cams but is adjusted similarly to the "bite" setting on a buttonholer. See the Fashion Aid pages for a picture.
From manual (1954): 160985 for 15, 201, 221, 1200 and 160985 for 301
From manual (1956): 161102 is for 15, 201, 221, 1200 machines and 161103 is for 301
From manual (1957): 161157 on 201, 221, 222 and 161158 for 301 and 404
Please see the box page for pictures of the box that this zigzag attachment came in as well as the Stitch Pattern box that contained extra cams (the one shown is part number 161008).