Singer Model 72w-19 for Hemstitching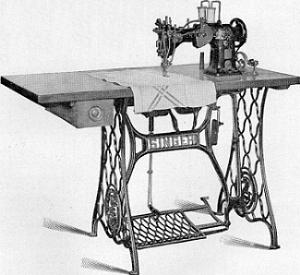 This machine is fitted for two-needle hemstitching on shirt waists, underwear, handkerchiefs, ladies' neckwear, etc. The openings are 1/16 inch and the stitch is known as the over-edge hemstitch, the two hemstitch sides of the opening being overseamed.
Attachments can be furnished for use with the machine for automatically guiding and hemming any desired width of material, also for tucking, stitching on lace, plaiting, etc. For ease of operation and for quality and quantity of production, the Singer machines of this class are unequalled.
The illustration shows the machine on table and stand equipped with a 1/7 horse power direct-current Diehl motor, enabling the machine to be driven at varying speeds up to 1300 stitches per minute.
Its cost in New York, equipped as described, is $157.50 [in 1914]. If furnished on foot treadle stand its cost is $132.50.