The Little Singer Building
561 Broadway, New York

by Martin Gregory
ISMACS News 101
December 2010

The early years of the twentieth century saw the pinnacle of prosperity for the Singer Manufacturing Company. On a recent visit to New York, our treasurer, Graham Cresswell, visited the 'Little Singer Building' in Broadway to bring us this note.
The architect Ernest Flagg was trained in Paris in the 'Beaux Arts' tradition. Returning to New York, he became the favourite architect for Alfred Corning Clark (the son of Edward Clark, Singer's partner) and Frederick Bourne, the Singer Company president. In 1896, Flagg designed the new headquarters for the Singer Company at Broadway and Liberty Street in the French style. Flagg's second building for Bourne was at 561 Broadway and became known as the 'Little Singer Building' when Flagg enlarged the Broadway and Liberty building to become the Singer Tower, the tallest building in the world when completed in 1908s.
The little building was to be the headquarters of the industrial machines side of the business. The lower floors were showrooms and the upper floors offices. For the site, Flagg produced a really innovative design: a twelve storey steel framed L-shaped building fronting onto Broadway and Prince Street. Both frontages are composed of terracotta panels and large glass windows with intricate wrought iron balconies and trellis work details. Designed in 1902, construction started in 1903 and the company moved in 1905.
While the Singer tower was demolished in 1967, this gem remains; having been a co-operative, the Singer Studio Corporation, with a mixture of commercial and residential units since 1979. From 1983 the co-op has restored and cleaned the panels and repainted the ironwork in dark green as it had been on completion. Graham tells us the ground floor is now one of the 'Mango' chain of ladies' fashion shops. The name of the Singer Manufacturing Company was cast in the ironwork of the Prince Street frontage and is now the only external evidence of its Singer parentage.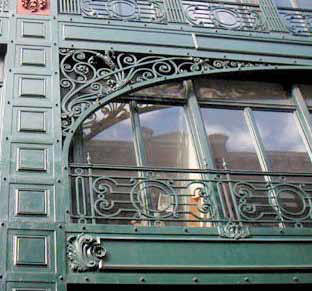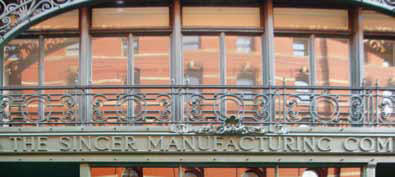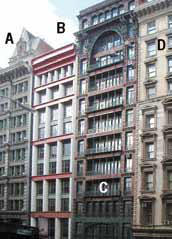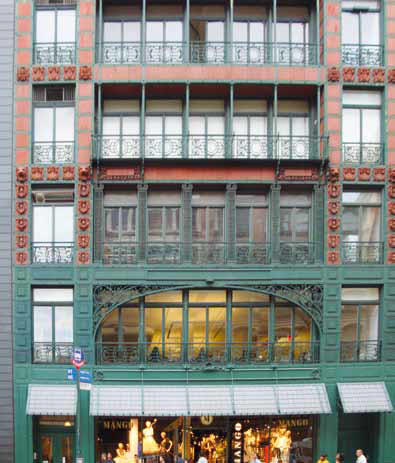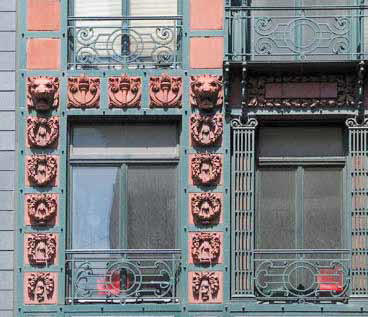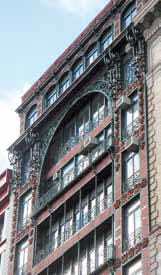 (Photos: Graham Cresswell & Graham Forsdyke)