ISMACS International
International Sewing Machine Collectors' Society
Research

Manufacturers

If your sewing machine, accessory, or ephemera has a name on it, this is the place to start. If we don't have a listing for the name, please use the search function to see if there is any mention of it on our site.

General Information

Toy Sewing Machine Information




About Us

ISMACS News Magazine

ISMACS News

ISMACS News is the magazine of the International Sewing Machine Collectors' Society published four times a year for society members.

Feature Issue

ISMACS Membership

Joining ISMACS

The International Sewing Machine Collectors' Society is the premiere sewing machine collector's group. A quarterly magazine and access to our annual sewing machine auction are but two membership benefits.

ISMACS Email Digest

Joining the Email Digest

The ISMACS Email Digest is the place to ask all your sewing machine questions. You will be greeted by the internet's finest people and your enquiries will be answered by leading experts.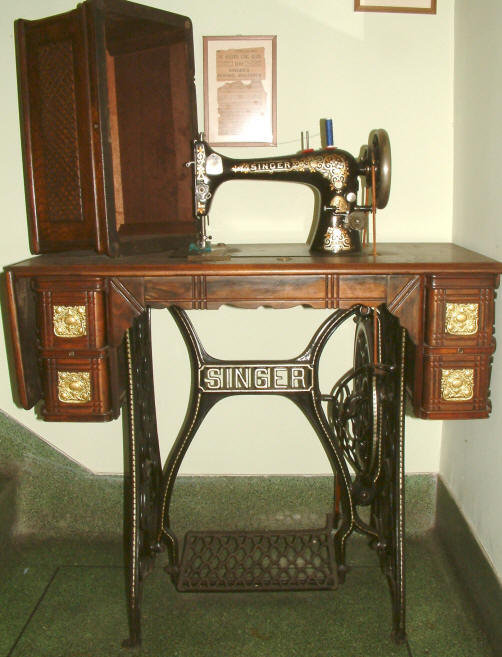 fig 1 The "Diamond Jubilee" machine on its stand
The Great Singer Giveaway
By Martin Gregory
As you climb the stairs up to Ray Rushton's London Sewing Machine Museum you pass a rather special Singer 27K on its treadle stand (Figure 1) surrounded by all the relevant paper work. Here is its story.
Queen Victoria celebrated her Diamond Jubilee of 60 years on the throne, in 1897. Many British companies produced commemorative wares to celebrate the event and one of those companies was the Singer Manufacturing Company. The Singer Company gave away 100 specially decorated 27K . These special machines, valued at 10 guineas (£10.50) each, were advertised in the press and magazines (Figures 2 & 3).
Competition for the machines was good advertising and was expected to generate many tens of thousands of entries.
| | |
| --- | --- |
| fig 2 Flyer for the 100 machines | fig 3 Newspaper advertisement soliciting letters applying for the machines |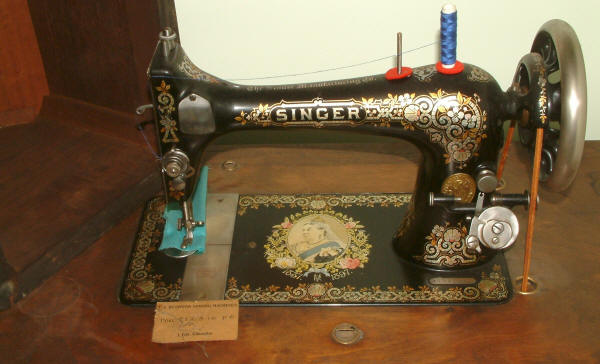 A complicated system of rules was set up to select the winners (Figure 4); no lottery balls or computer random number generators then. Applicants had to write in to the London head office and could, presumably, enter each week for 12 weeks beginning the 29 th March 1897.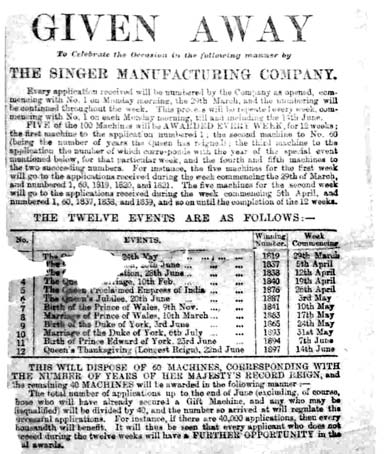 fig 4 Rules for selecting the lucky applicants
The entries for each week would be numbered in order of receipt and, at the end of the week, 5 machines would be allocated to those entries with 5 predetermined numbers given in the rules. At the end of the 12 week period, with 60 machines given away, the remaining 40 machines would be allocated amongst the applicants according to another formula. The results of each week's draw were displayed in the Singer shops.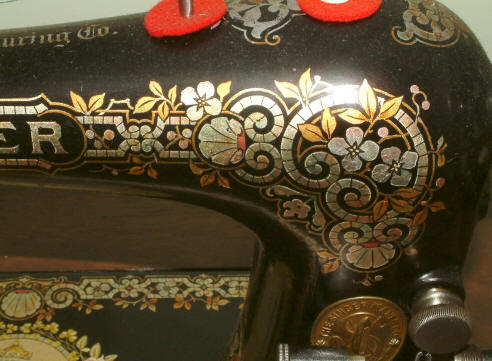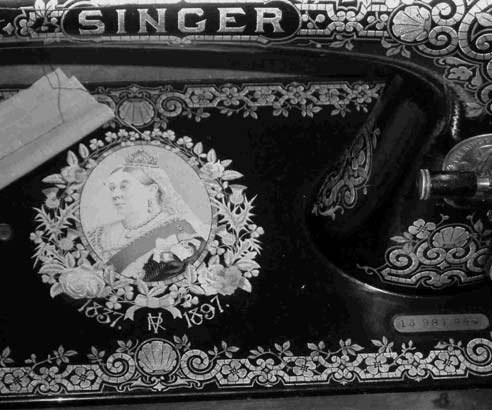 fig 5 The picture of Queen Victoria in the centre of the base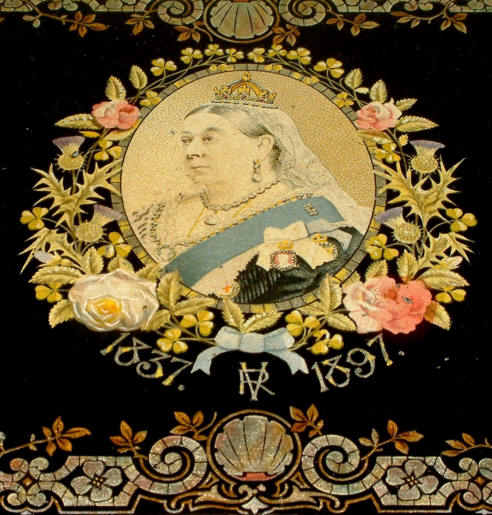 The machines themselves were given special decorative decals for the occasion (Figure 5) featuring a portrait of Queen Victoria, her monogram VR, and the dates of her reign, 1837 -1897 for the Jubilee. The stand was also polished and fitted with better quality brass handles.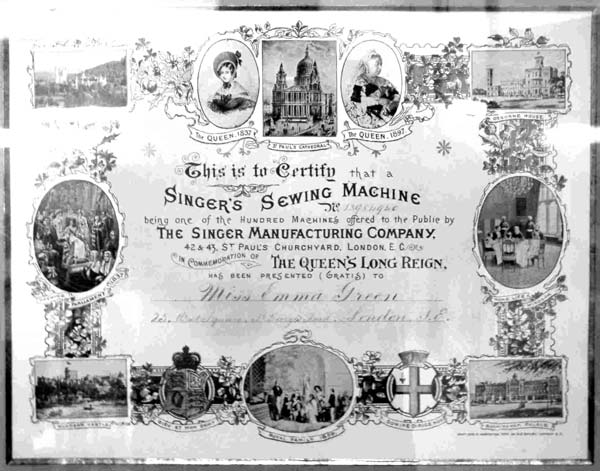 fig 6 Certificate awarding the machine to Miss Emma Green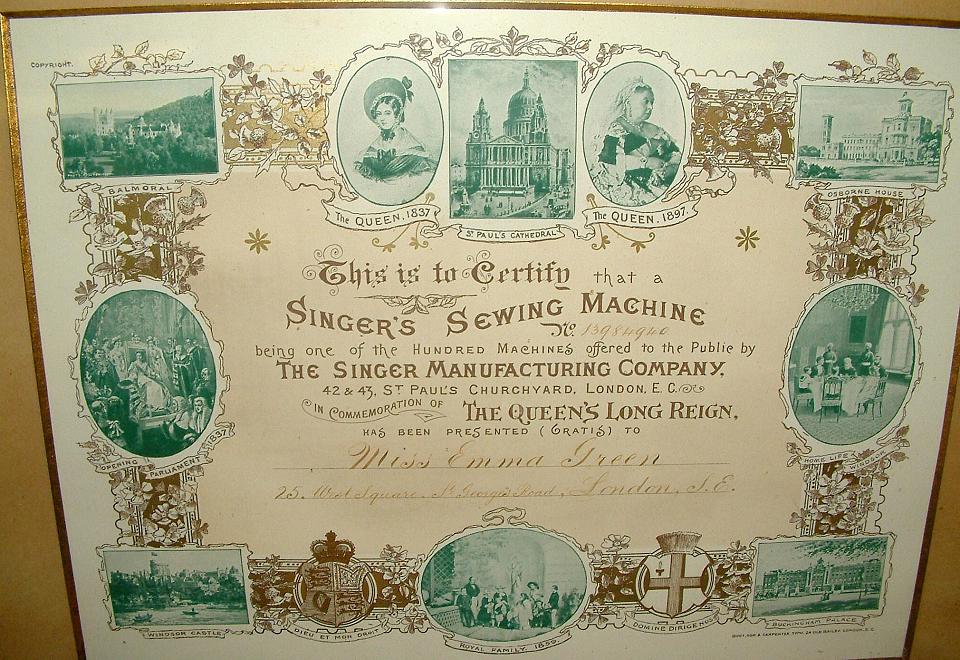 Ray's machine, number 13981940, was allocated to Miss Emma Green of 25 West Square, London SE, who was duly awarded the machine and given a nice framed certificate (Figure 6). Emma Green is not such an unusual name that there would be no other "Miss Emma Greens" entering the competition and watching each week in the window of their local Singer shop. One such Emma Green, from Birkdale, Liverpool, saw her name on the list in her Singer shop and wrote (Figure 7) to Miss Emma Green of West Square, London SE to see if there had been some mistake. Nice try, but presumably it did not work!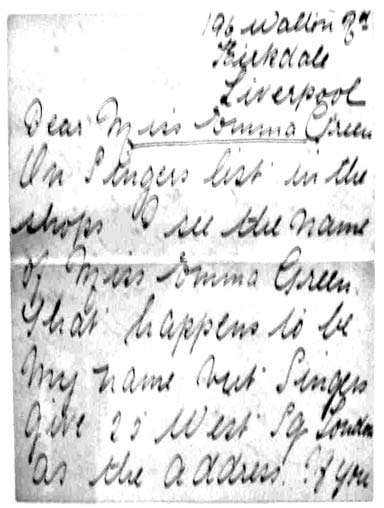 fig 7 Letter from Miss Green of Liverpool to Miss Green of London
Joining Us

About Us
ISMACS is an organization totally independent of all sewing-machine manufacturers, past or present and is not affiliated with any of the companies mentioned in these pages. Please Note: Do not contact any ISMACS official in an attempt to solicit a valuation - it is not possible other than by hands-on assessment and your request will be ignored.