The Tale of a Postcard in 1909
by Martin Gregory
ISMACS News 93
2008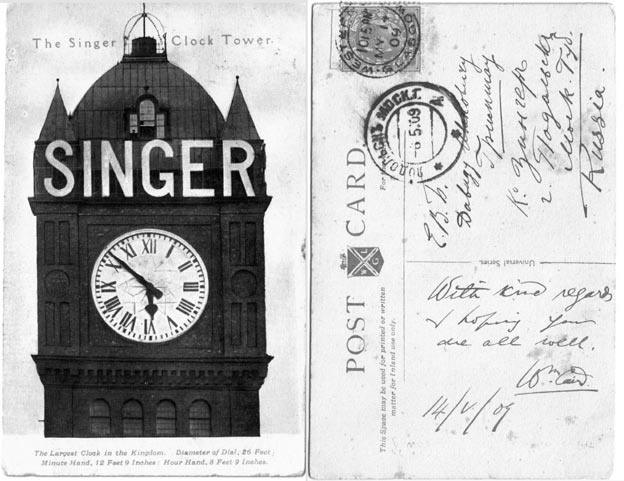 I thought this was just another Edwardian postcard of the Singer clock on the Clydebank factory. Looking at the back shows it to have been posted on 14th May 1909 in Glasgow to Russia; so here is my tale!
The Russian Empire was a fast growing market for sewing machines after 1900 and was originally supplied with machines manufactured in Clydebank. So successful were sales by the Singer Company that they decided to build their own factory in Russia. They selected a site at Podol'sk south of Moscow and built a factory which was to become their third largest, with an annual production of 400,000 machines. Staff from Clydebank went to Podol'sk to commission the plant and train the local workforce. Some may even have stayed on there. The sender of our card, Wm. Caird, writes "With kind regards & hoping you are all well" to Davidu Ivanovichu (a Russified form of David's Christian names) Grimshaw / the Singer Co / Podol'sk / Mosk[ovskaya] Gub[erniya] / Russia.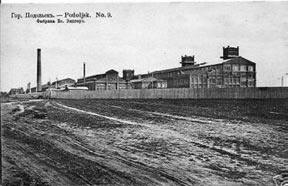 Mr. Caird sounds Scottish, Mr. Grimshaw, more English than Scottish, but the latter may have taken his family out there with him.
Was he a Singer employee who settled in Podol'sk?
MG