Singer's New Family by numbers
by David Stirling
ISMACS News 106
March 2012
Comparing serial numbers with known dates in Singer's production history is sometimes the only way of putting the company's machines in context. My collection of class 12 numbers has grown sufficiently to fill some of the gaps in the available information.
Little is known about the earliest class 12 ornamentation (decals) sets as few have survived. The first set I have noted featured roses on the bed and scrolls on the arm.
There were at least two versions of the Ancanthus Leaves used on the domestic class 12 and yet more on 'industrial' versions, The Singer name took quite a while to feature on the sides of the arm. First, appearing tentatively on the front of the arm, before finally gracing both sides c.1887. All the suggested serial numbers that mark a change are approximate.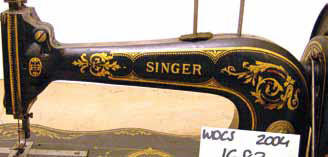 Examples given here are generally 12K machines however, the serial (or Register) numbers are sequential between Elizabethport and Kilbowie. Only the lower "Factory" number will be different. This is a running total of class 12s made at that factory.
These, I think, were the more common decals. There were many; including "Wheels", (c.1885- 88), George A. Squire's floral "Weeds" design and numerous 'specials'. I've seen quite a few with mother-of-pearl designs, but never two alike. I'm guessing they had an artist at the factory given the freedom create designs he liked as one-offs. (DS)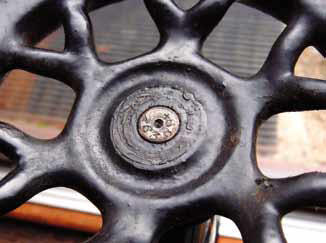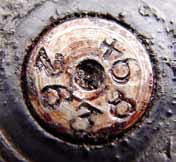 Approx. serial #s and commission dates
Machine characteristics (class 12)
Placement of numbers
163,289
Early style
Two numbers side-by-side, in line.
#201,000 (& 1) Scotland
Raised stitch plate extends as far as the arm.
295,000
Mother-of-pearl
(Approx. 1870)
Decals: scrolls and roses
< 2,400,000 (1877)
Stitch plate reduced to area around needle; corners are squared.
> 2,400,000 (1877)
Tension discs relocated to the lower right-hand corner of the faceplate. Knurled tension adjustment knob added, above the faceplate. Corners of the stitch-plate area rounded off.
Serial number stamped ABOVE the factory number from here on.
2,800,000 (1878)
Decals change from Scrolls and (various) Roses to Acanthus Leaves I. The design is outlined with a pair of solid gold lines.

The faceplate decal is a single elongated spiral. No Singer name on arm.
3,600,000 (1879/80)
Singer name appears on arm front only.
7,600,000 (1887-8)
Singer name on arm front and rear.
6,100,000 (1884)
Decals: Acanthus Leaves II. The inner solid gold line is replaced by a line of gold dots (12dpi).

The faceplate has a design symmetrical about the vertical centre-line.
9,191,778 (& ????)
Latest example of "two serial numbers"
9,205,304
Approx. start of single figure serial.
9,300,000 (1889/90) to end of production in 1902-3
Decals: Ottoman Carnations, though there seems to be considerable overlap.
We're very grateful to ISMACS member, David Stirling, who has made a study of class 12 serial numbers. Singer documentation is often hard to track down and much speculation surrounds any dates of model changes. His findings are able to pin down a few key dates...