Singer's German Factory at Wittenberge
ISMACS News
Issue 114
by Martin Gregory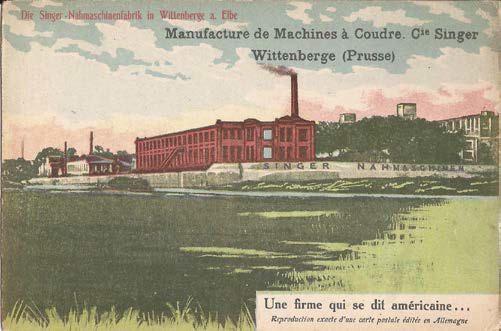 At the start of the twentieth century, Singer's Clydebank factory could not keep up with supplying the whole European market so two large new factories were planned; one in Germany and the other in Russia. The German factory was started in 1903 at Wittenberge in Prussia, west of Berlin on the river Elbe. The first machines were produced in 1904.
Wittenberge machines were given the suffix D to the class number (e.g. class 15D) and serial numbers carried the prefix letter C.
Production continued until 1940 when military production displaced most of the sewing machine lines. Total production up to 1943 ran to approximately 6.5 million machines. After the war, Wittenberge found itself in Eastern Germany, the area under Russian control.
In June 1946, the Singer Company were informed that the machinery in the factory had been dismantled and taken to Russia as war reparations and the factory lay empty for several years. Under the DDR, the factory was re-equipped and traded as VEB Nahmaschinenwerk Wittenberge as part of the state textile machinery combine, 'VEB Kombinat Textima'. The machines made for the DDR were badged with some new names and some old names such as Veritas, used by Clemens Muller of Dresden before the war, and Naumann, used by Seidel & Naumann of Dresden before the war. With the reunification of Germany the plant was closed on January 31st 1992 having produced just over 7.5 million machines.