Willcox & Gibbs Machine is an Enigma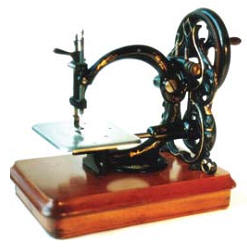 In 1990, Rijnko Fekkes of the Netherlands acquired a Willcox & Gibbs sewing machine from 1873 (serial number 230420). However, this Willcox & Gibbs machine has some unusual characteristics that have made it impossible for Rijnko to locate any information on it. Here is his story.
When visiting an antique market in Amsterdam in 1990 I saw a very nice Willcox & Gibbs for sale. I asked the dealer if I could have a look at it and when I examined it, I noticed some unusual characteristics. First, the machine did not have the patent dates on the working plate as usual, but instead it has the words "Machine a coudre Willcox & Gibbs." And second, the hand crank gantry is very unusual - see picture. I have never seen a shape like it before or since. Although the dealer was asking quite a lot of money, I couldn't pass it up and did end up buying it.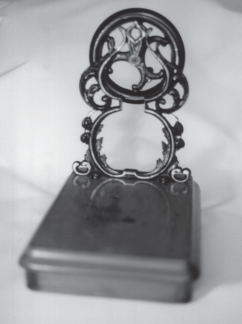 Since that time in 1990, I have taken every opportunity to ask other W&G collectors if they have a similar machine in their collections or have ever seen one in their travels. So far, nobody has ever seen or had one, and I have yet to discover another. Perhaps an ISMACS reader will recognize this machine or have a similar one in their collection.
If you think you can help Rijnko, you can either contact him directly or you can let us know what you think and we will pass the information for you. Either way, we hope to be able to follow up on this interesting inquiry in a future magazine.
To contact Rijnko you may send a letter to:
Rijnko Fekkes
Koningspage 70
7361 ZX Beekbergen
Netherlands
Or you can send an email to: [email protected]
Update
Wilcox and Gibbs mystery cleared up
From Issue 82
In the last issue we featured the Wilcox and Gibbs machine owned by Rijnko Fekkes of the Netherlands. Maggie Snell recognised the gantry, it is one of the earliest European styles made prior to 1875