Industrials
by Graham Forsdyke

Normally I've fought shy of going into the industrial
models produced by the various manufacturers that
have come under our scrutiny, but as many of the
Willcox and Gibbs factory machines were modifications
of the domestic model and many turn up today,
this once we'll look at them in a little depth.
The Automatic Manufacturing Machine
The basic manufacturing machine was little different from the domestic offering and was available in two styles, one making from seven to 14 stitches and the other from nine to 22 stitches per inch. The factory recommended power working at a rate of 3,000 stitches per minute.
Registering Measuring Tension Machine
This was also a variant of the domestic model but with an improved tensioning device which could be adjusted so that the machine would draw off the bobbin the exact length of cotton needed to make a particular stitch. It even had an automatic thread cutter designed to cut the cotton so as to leave 3/4-inch of thread through the last loop, thus making the seam secure.
The Bag Machine
This model had a very coarse stitch of three to five per inch and was designed with the feed mechanism well away from the needle so that wet goods - in a tannery for example - could be sewn.
Straw Hat Machines
Even as late as 1865 pundits declared that there would never be a that could sew a straw hat. Within a decade Willcox and Gibbs had proved them wrong with the visible-stitch straw-hat machine which dominated the Luton-based hat trade until 1887 when the company, working closely with the Luton factory owner Edmund Wiseman, produced the Hand-Stitch Straw Hat machine. It was completely different from the visible stitch - yet another variant of the domestic machine. The hand stitcher had two needles, one eye-pointed and the other barbed, allowing the thread to pass from one to the other, revolutionised the hat-making industry.
By foot power alone it was said to be possible to produce as many as 144 hats in a 10-hour day on one machine.
The Overlock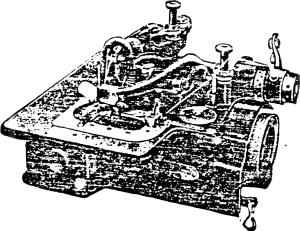 Perhaps the most famous of the Willcox and Gibbs industrials, the overlock was introduced in 1889 and soon became the industry leader.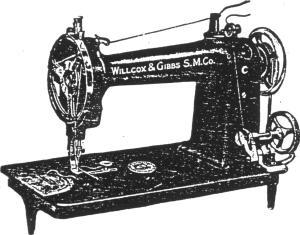 High-speed lock stitch
Built expressly for power-drive, the industrial lock-stitch was introduced in 1899 with the staggering claim of an output of 4,000 stitches per minute. Steam was the motive power of the day and Willcox and Gibbs even produced special benches with pulleys for factory operation.