ISMACS International
International Sewing Machine Collectors' Society
Research

Manufacturers

If your sewing machine, accessory, or ephemera has a name on it, this is the place to start. If we don't have a listing for the name, please use the search function to see if there is any mention of it on our site.

General Information

Toy Sewing Machine Information




About Us

ISMACS News Magazine

ISMACS News

ISMACS News is the magazine of the International Sewing Machine Collectors' Society published four times a year for society members.

Feature Issue

ISMACS Membership

Joining ISMACS

The International Sewing Machine Collectors' Society is the premiere sewing machine collector's group. A quarterly magazine and access to our annual sewing machine auction are but two membership benefits.

ISMACS Email Digest

Joining the Email Digest

The ISMACS Email Digest is the place to ask all your sewing machine questions. You will be greeted by the internet's finest people and your enquiries will be answered by leading experts.
Singer Model 12K Industrial Sewing Machine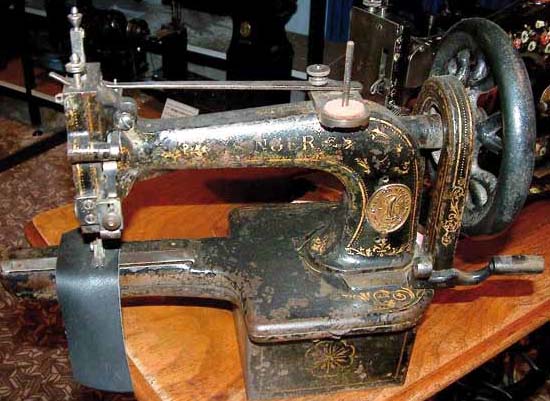 Singer 12K industrial strength - sews leather!
ISMACS News 102
March 2011
John Langdon
No, not the outrageous claim of an unscrupulous Ebayer, but a real, live, cylinder bed variant of Singer's New Family domestic; with a top feed (feeding presser foot), on display at the London Sewing Machine Museum. The date suggested was an optimistic 1862, however, the ornamentation is based on the 'acanthus leaves' which suggests closer to the mid-1880s.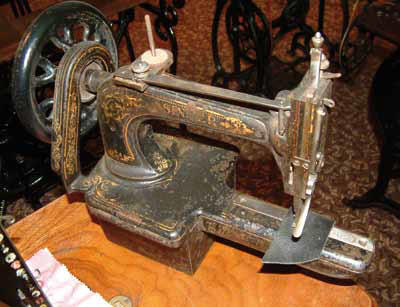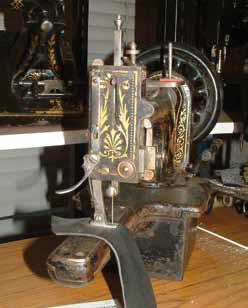 It clearly has purpose-made castings and seems to have parts peculiar to both the 12K (belt guard with narrow legs) and 13K (external presser foot lift) and a mighty, flat presser bar spring more usually associated with heavy industrials. Underneath, with no drop feed mechanism to take up space, the shuttle parts fit conveniently within the narrow bed.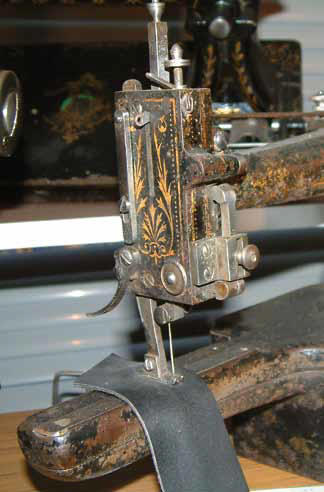 While wondering whether this oddity was made by Singer, or by an enterprising workshop, Martin informed me of an almost identical industrial 12k he had seen in the Clydebank Museum collection.
Does anyone know more?
John Langdon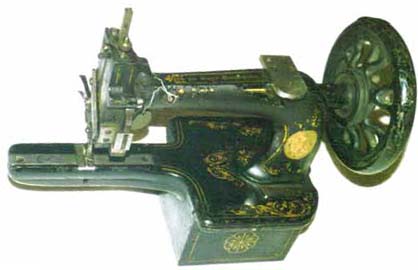 Front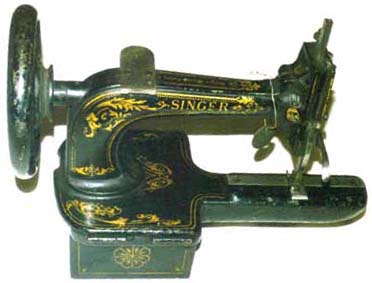 Back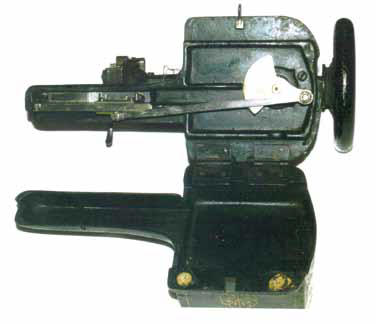 Bottom - open
Joining Us

About Us
ISMACS is an organization totally independent of all sewing-machine manufacturers, past or present and is not affiliated with any of the companies mentioned in these pages. Please Note: Do not contact any ISMACS official in an attempt to solicit a valuation - it is not possible other than by hands-on assessment and your request will be ignored.