Safety for Factories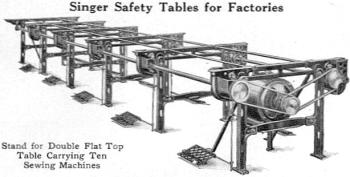 The Singer Manufacturing Company is...engaged in perfecting the construction of tables for use in the power operation of in factories.
These tables are...especially designed to reduce the danger of personal accident to a minimum.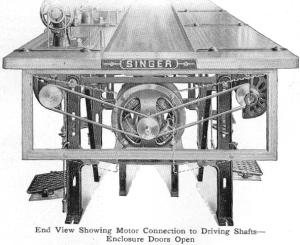 One Diehl electric motor is belted to two main lines of shafting running continuously and enclosed in a tubular cover, all completely covered by woodwork.
Each has a Singer Power Transmitter on these main shafts and these transmitters are running only when the operator's foot applies pressure to the treadle on the floor; upon the release of this pressure the is instantly stopped and it is thus absolutely controlled even to the limit of making but one stitch.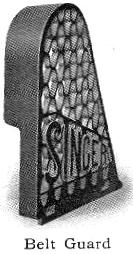 A Belt Guard is placed on the table so as to cover the running belt and the driven pulley on the , thus preventing all contact by operators or by the material in process of manufacture.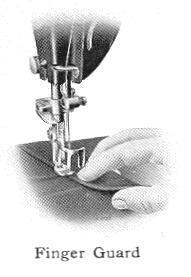 The use of...the Singer Finger Guard...makes it impossible for operators to have their fingers pierced by the needle; since it is not necessary for them closely to watch their fingers, more attention can be given to the work. The guard is quickly attached to the presser bar of the machine and it can be readily adjusted to the desired height.
When not in use the finger guard is turned back and can again be placed in position by simply swinging it forward.
By the use of...these appliances...the risk of accident from Singer in manufacturing industries is entirely overcome.
(Pictures and Text Courtesy of Dorothy Brumleve)