Card Table No. 311 & No. 313
128's, 99's, 15's and 201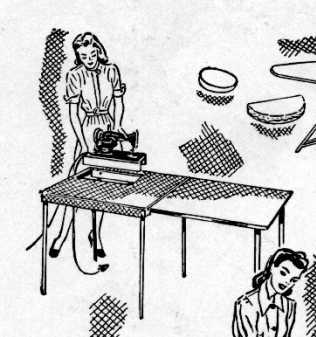 The Following Compliments of Sharon Reese:
This picture is from "Singer Dressmaking Guide" copyrighted 1947. It's also pictured in my 1943 version of the same book. The remains in its case bottom, and you put the machine and bottom into the table's cutout. I assume the table extension on the right was an option.
These tables were made for either the 3/4-size machines (128 or 99) or the full-size ones (15 or 201). I assume other full-size machines would fit into one of these tables as well.
According to another collector, the cutout size for the 3/4-size machine is 19" x 8 3/8". I don't know the dimensions for the full-size cutout.