Optional Extras
ISMACS News
March 2005
Jenny Veale

Looking through an 1896 Seidel and Naumann price list and a 1900 manual for a high arm hand machine I found some interesting optional extras.
I recognised some of the extras, in fact found the little bobbin tin shown below in the attachment compartment of one of my machines. Little notches cut into the side of the tin keep the bobbins secure.


I understand pin cushions are another frequently found item, I have seen them closed and didn't even realise what was hidden beneath.
For an extra 5 shillings (the hand machine cost '4 10s) in 1900 you could buy a darner and embroiderer attachment. It would appear that this gadget on the arm of the machine was fitted in the workshop and perhaps controlled the tension. The instructions indicate that the embroidery hoop and feed dog cover plate were all the user had to fit in order to use the machine for embroidery. I imagine this enabled free motion work.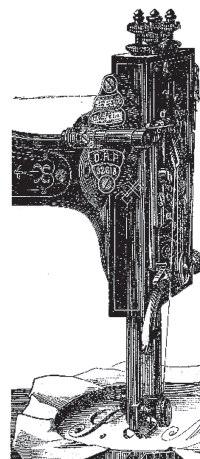 I am aware of one of these existing but have never seen it in action. If anyone has one of these fitted to their machine I would love to hear from you.
The last gadget advertised in the price list is a foot rest. This cost an additional 4 shillings and can be seen in the picture below.