Kimball & Morton of Glasgow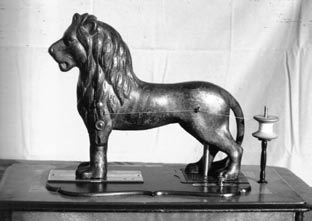 Ask any Sewing Machine Collector about Kimball & Morton and they will come up with the two 'Lion' figural machines. However, there is more to the company than that; they made both domestic and industrial machines over a long period from their foundation in 1867 to the final demise of the name in 1955.
I. M. Singer & Co set up their first office in Great Britain in 1856 with an office at 11 Buchanan Street, Glasgow. (The first London office was not opened until 1863.) The first recorded manager of the Buchanan St. office was Alonzo Kimball. Kimball is not a common Scottish name so was he sent by Singer to open the British enterprise? He engaged one John Morton as a travelling salesman for England. Morton settled in Liverpool and opened an office there for I. M. Singer & Co. At this time, all Singer machines were imported through Glasgow for distribution throughout the UK. The choice of Glasgow for the Singer Company was made because the Howe Patent had been sold to W. F. Thomas and a base in Scotland got round English Patent law and litigation with Thomas. From 1861-5, Kimball managed the office of I. M. Singer & Co. at 7 Maxwelton Place, Paisley Road, Glasgow. In 1867, the Singer Company opened an assembly plant in Love Loan, Glasgow to distribute Singer machines assembled from parts brought in from the USA. Manufacture of complete machines started after 1869 when the James Street, Bridgeton (Glasgow) factory was opened.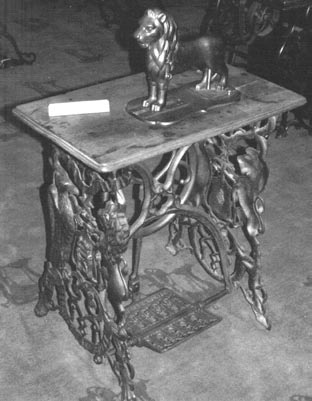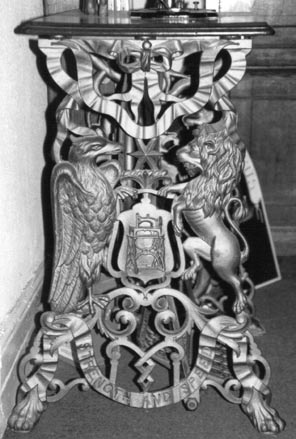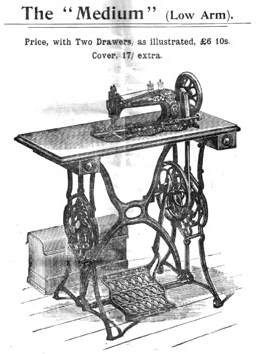 With the rise in sales of Singer machines came the appointment of G. B. Woodruffe as the Manager for Europe in 1865. Alonzo Kimball was not promoted to this new position, so, did he leave in a huff? Whatever happened, we find him patenting improvements in his own name on 30th June 1864 (Patent no. 1632), 23rd July 1866 (Patent no. 1908) and 11th March 1867 (Patent no. 687). These patents relate to heavyweight machines for sewing sails, sacks etc. Machines capable of tackling sails would have a ready sale on Clydeside which was still building large numbers of sailing ships. He attracted back his protege John Morton to join him and founded the Kimball & Morton Company in 1867. The first patent in their joint names is no. 2227 of 27th June 1873. Up to 1877, the Company's factory was at 82 Bishop St., Anderston with showrooms at 114 Argyle Street, Glasgow.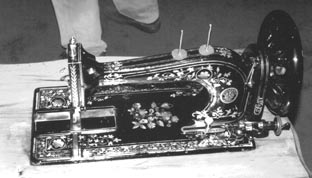 The new company launched its first 'Lion' machine within a year of its foundation, as a 'Registered Design' in 1868. There is nothing novel about the mechanism (a simple transverse shuttle lockstitch) but the shape is unique with the top mechanism and needle bar hidden within a bronzed cast iron lion (Figure 1). When not in use, a dummy pair of front legs hid the needle bar and presser foot (Figure 2). The treadle has ornate end castings including a lion and an eagle and the legend 'Strength and speed' (Figure 3). Apart from this crazy machine, the company prospered on its good reputation for industrial machines for sewing sails, eyelets, grommets etc. It exhibited at the American Centennial Exhibition in Philadelphia in 1876 where it was the only British-made sewing machine to gain a medal.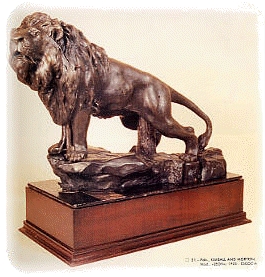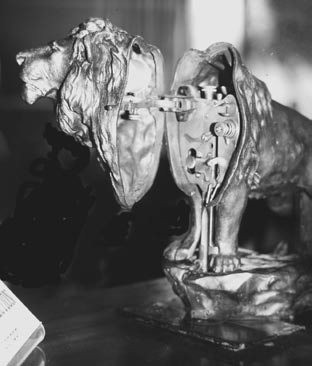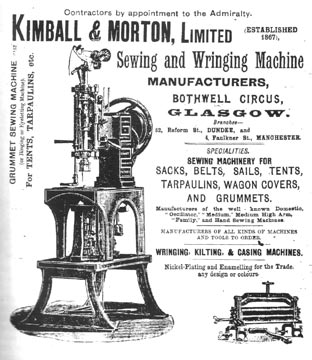 As the patents for the Singer 12K and 13K ran out, a 'Family' and a 'Medium' machine were introduced in 1878 and continued in production into the twentieth century. Figure 4 shows an advertisement for the 'Medium' in a catalogue of 1900; Figure 5 shows a nice example of a 'pearled' 'Medium' machine; and Figure 6 the standard end casting of a K & M treadle complete with lion's head. The company became a 'Limited Company' in 1887 and had its Chief Office and Manufactory at Bothwell Circus, Glasgow. In 1900 it claimed to manufacture sewing machines for 'sacks, belts, sails, tents, tarpaulins, wagon covers, and grummets (sic)'. They also made wringing, kilting , pinking and casing machines and the 'City Line' of cycles, and offered a nickel-plating and enamelling service for cycles etc. Top of the range for domestic machines was the 'Jumbo' Oscillator (a clone of the Singer 16K,- a long arm version of the 15K central bobbin machine).
For the Edwardian parlour came the second 'Lion' machine, patented on 9th October 1902 (Patent no. 21933) by William Urie M o r t o n and James Raeburn Urie Morton (sons of John Morton). This time it was a hand or treadle machine (Figure 7) in which the rocks were hinged to reveal the needle bar, presser foot and shuttle race, and the head was hinged to insert the top reel and adjust the tension (Figure 8). The sculpture was based on that of J. Vasteugh Gyorgy. This must rank as the most elaborate vibrating shuttle machine ever offered to the public.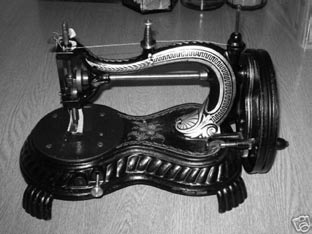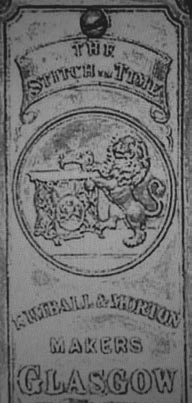 What of their other machines? Figure 9 shows an advertisement for their machine for sewing grommets. Domestic machines marketed over the years include an 'almost Jones' lookalike called the 'Stitch in Time' which was on sale around 1880 (Figures 10 & 11), a casing or gathering machine (Figure 12) which is a clone of the Heberling running stitch or gathering machine and also of the Singer 76, and an iron-base version of their 'Family' (Singer 12K) clone (Figure 13).
Then there is the background of the 'So-All' machine. The So-All Lockstitch S. M. Company was incorporated on 26th November 1892 to market a machine made under the patents of John Morton, William Urie Morton, James Raeburn Urie Morton and Herbert Ackroyd Stuart. The first three of these patentees are well known to us as the brains behind Kimball & Morton. H. A. Stuart is now remembered as the originator of one of the most successful early (pre-Diesel) oil engines. The So-All Company was bankrupt by June 1894 and was formally dissolved in September 1896.
It is almost certain that Kimball & Morton manufactured the 'So-All' machine (Figure 14) given the involvement of the Mortons and the fact that the small capital of the So-All Co. would not run to a manufactory. Further evidence comes from the existence of the Kimball & Morton 'Eagle' machine (Figures 15 & 16) which shares most important components with the 'So-All' but has a conventional 4-motion feed below the clothplate. 'Eagle' machines are much rarer than the 'So-All' so my hypothesis is that when the So-All Company collapsed after only eighteen months, Kimball & Morton found themselves with a stock of castings and jigs to make the 'So-All'. With no market for the 'So-All', they assembled the 'Eagle' using as many stock items as possible and when the stock was exhausted, the 'Eagle' was discontinued as it did not fit in with their existing range of domestic machines. It is not mentioned in their 1900 catalogue of domestic machines and so had, presumably, gone by then.
Sometime after 1900 their address changed to 11a Norfolk St., Glasgow. Perhaps that is when they ceased to manufacture their own machines and bought them in.