ISMACS International
International Sewing Machine Collectors' Society
Research

Manufacturers

If your sewing machine, accessory, or ephemera has a name on it, this is the place to start. If we don't have a listing for the name, please use the search function to see if there is any mention of it on our site.

General Information

Toy Sewing Machine Information




About Us

ISMACS News Magazine

ISMACS News

ISMACS News is the magazine of the International Sewing Machine Collectors' Society published four times a year for society members.

Feature Issue

ISMACS Membership

Joining ISMACS

The International Sewing Machine Collectors' Society is the premiere sewing machine collector's group. A quarterly magazine and access to our annual sewing machine auction are but two membership benefits.

ISMACS Email Digest

Joining the Email Digest

The ISMACS Email Digest is the place to ask all your sewing machine questions. You will be greeted by the internet's finest people and your enquiries will be answered by leading experts.
ISMACS News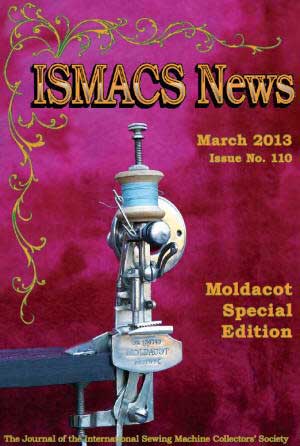 The March 2013 issue – Number 110 – is a Moldacot Special. The most comprehensive review of the history and model variations of this unique machine ever published. Written by Graham Forsdyke and Dr. Martin Gregory, and copiously illustrated with many rare examples.
Detailed results of ISMACS' 2013 Moldacot survey will be in the June 2013 edition; Also featured is the first of a three-part history of French toy SMs by Rita & Manfred Koym and a behind-the-scenes look at Glasgow's Riverside Museum's SM collection and some of its restoration techniques by curator, Heather Roberton.
Articles, too, on Willcox & Gibbs' aggressive marketing; Singer ephemera; sewing machines on reality TV shows, chain stitch on the Wheeler & Wilson D9, Lee King's 'Countess' and an investigation into the curious errors in Singer's pre-1900 dating lists. Did you spot the mistakes…?
ISMACS News #110 is forty-eight pages of full-colour extravagance, solely devoted to old sewing machines and their collectors; lovingly illustrated and printed on the smart, coated art paper you'd expect from a high-end, specialist magazine.
All this, four times a year, for the cost of a garage sale machine.
And it's free to members.
Not a member? No worries…see full membership details.
We also have an index of back issues.
Or contact the Membership Secretary: [email protected]
ISMACS News is keen to publish original research and sewing machine collectors' experiences. All copy submissions and suggestions to [email protected].
Joining Us

About Us
ISMACS is an organization totally independent of all sewing-machine manufacturers, past or present and is not affiliated with any of the companies mentioned in these pages. Please Note: Do not contact any ISMACS official in an attempt to solicit a valuation - it is not possible other than by hands-on assessment and your request will be ignored.