ISMACS' Sewing Machine Book List
Books on Collecting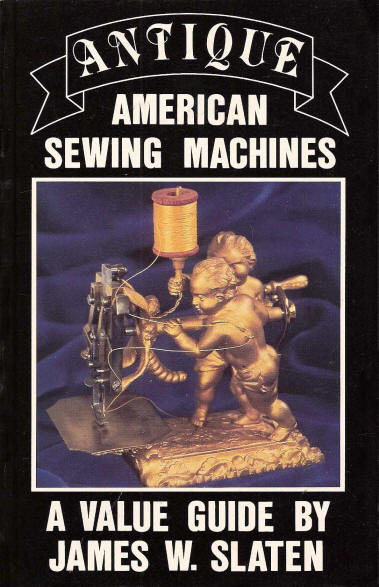 Antique American Sewing Machines, a value guide
| | |
| --- | --- |
| Author: | James W. Slaten |
| Publisher: | Singer Dealer Museum, 3400 Park Boulevard, Oakland , CA 94610, U.S.A. |
| Format: | 8 ½" x 5 ½", paperback, B&W. |
| Date: | 1992 |
| Pages: | 256 |
| ISBN: | 0-9632287-0-6 |
| | Photographs and line drawings of many domestic machines – including some rarities – each with a scant paragraph of description. Now -seventeen years and a worldwide recession after publication - the suggested prices ("values") are still wildly misleading. But, as any machine is only worth what the seller can get, it's never going to be a tangible amount. Some history – and some questionable data - with lists of manufacturers and badged names. With proof of purchase, owners of this book can write to the publisher for a free appraisal by "… sending your name, address and a photo". Presumably, of the machine. |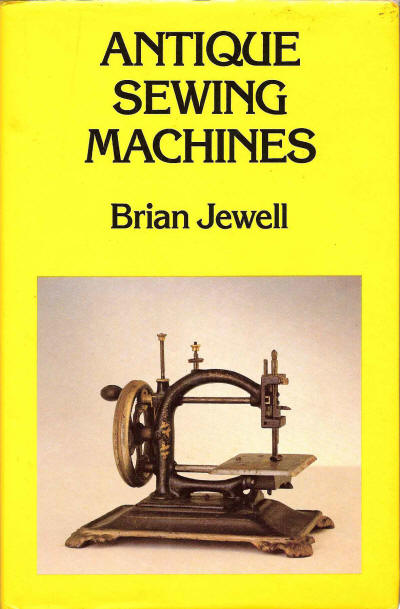 Antique Sewing Machines
| | |
| --- | --- |
| Author: | Brian Jewell |
| Publisher: | Costello, Tunbridge Wells, UK. |
| Format: | 9" x 6", hardback, illustrated (some colour) |
| Date: | 1985 |
| Pages: | 159 |
| ISBN: | 0-7104-3002-7 |
| | Essentially, a revised reprint of the same author's 'Veteran Sewing Machines'. It's larger and, therefore, contains more errors. The cross-referenced index of marques and manufacturers is expanded at the expense of some of the less helpful advice to new collectors. A handy explanation of Registered Design Marks (to date treadles) failed to make the cut, though the number of illustrations generally is increased. |

Beginners Field Guide to Early Singers
| | |
| --- | --- |
| Author: | Richard Wightman |
| Publisher: | Treadle-On Publications. 10527 12th Ave. NW, Seattle, WA 98177 www.treadleon.net/topubs/topubs.html |
| Format: | 6"x4". Paperback. |
| Date: | In print |
| Pages: | 32 |
| | Wightman – or, Captain Dick to the Treadle-On internet forum -produced this pocket guide intended to help identify machines found while trawling antiques malls, etc. No illustrations, but it does its job surprisingly well. The second edition is expanded to include the 400 & 500 series. |

The Invention of the Sewing Machine
| | |
| --- | --- |
| Author: | Grace Rogers Cooper |
| Publisher: | The Smithsonian Institute Press, Washington, D.C. (Volume 254 in the Bulletin series) |
| Format: | 11" x 8½", Hardback |
| Date: | 1968 & 1969 |
| Pages: | 156 |
| Description: | Authoritative, scholarly approach to the early history by a Smithsonian curator. Clear B&W photographs with lists of machines and patents in their collection. Not surprisingly for the national museum, it's about American machines. Excellent reference but revised and enlarged in subsequent editions. |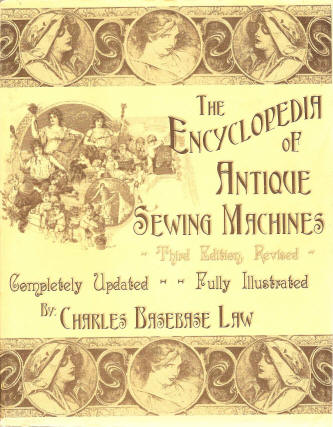 The Encyclopedia of Antique Sewing Machines
| | |
| --- | --- |
| Author: | Charles Basebase Law. |
| Publisher: | Published privately. Contact: [email protected] 201 Orchard Street, Albert City, IA 50510, USA. |
| Format: | 11" x 8½", Hardback and paperback |
| Date: | 1997 (first edition), 2002 (revised third edition & addendum) |
| Pages: | 272 (first edition), 590 pages (third edition) |
| | "A reference manual for the history, identification, maintenance and use of antique and vintage-model sewing machines" ... and it does what it says on the tome. The latest and most comprehensive edition features photographs, manufacturing and maintenance data for hundreds of machines from all over, plus reprints of dozens of manuals. Everything a collector needs to know to identify most domestic models (pre-c.1960), weighted towards C20th machines. While the first edition is itself a valuable reference book, it's less than half the size of Mk. 3 and concentrates on (mainly) American makers. Caveat emptor. Published by the author, the unsigned ones are the rare ones but he does occasionally put a couple on a popular auction site. A must for collectors. |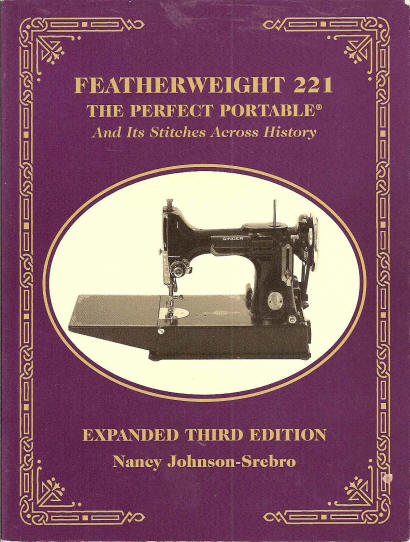 Featherweight 221 - The Perfect Portable® And its Stitches Across History
| | |
| --- | --- |
| Author: | Nancy Johnson-Srebo |
| Publisher: | Silver Star Inc., 55 Saddle Lake Rd, Tunkhannock, PA 18657 www.ctpub.com |
| Format: | 8" x 6", Paperback, Colour and B&W illustrations. |
| Date: | 2001 (expanded 3rd edition) |
| Pages: | 220 |
| : | Probably everything there is to know about the insanely popular Singer 221 & 222 Featherweights, by an author with an obvious passion. History, model and production details, maintenance, trouble-shooting, repair, other users' experiences, a reprint of Singer's original manual and … and… |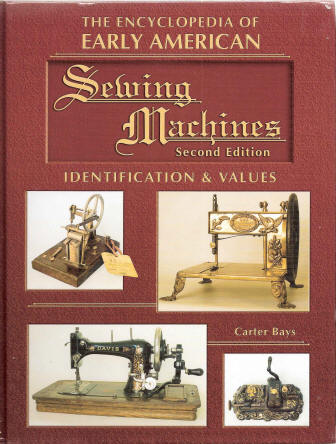 The Encyclopedia of Early American Sewing Machines
| | |
| --- | --- |
| Author: | Carter Bays |
| Publisher: | Collector Books, P.O. Box 3009, Paducah, Kentucky 42002-3009, U.S.A. Contact the author: [email protected] |
| Format: | 11" x 8½". Hardback. Colour photos |
| Date: | 2005 (second edition), |
| Pages: | 400 |
| ISBN: | 1-57432-527-2 |
| | Beautifully produced coffee-table catalogue of superb, museum quality machines; with background information but comparatively little historical data, suggesting it would complement, rather than replace, Cooper. There have now been three editions from this well-respected collector, each a significant update of its predecessor. The third (currently available) is vast with ever more superb photographs. Restoration is covered in what is clearly a volume aimed at serious collectors but the chapter on toys, rather strangely including details of many German models, may prove a little disappointing. Highly recommended though, despite the overly-optimistic price guide on which even the author seems to have considerable reservations. |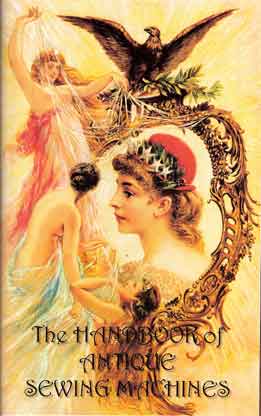 The Handbook of Antique Sewing Machines
| | |
| --- | --- |
| Author: | Charles Basebase Law. |
| Publisher: | PO Box 365, Albert City, IA 50510, U.S.A |
| Format: | 9" x 5½", paperback, B&W |
| Date: | 2002 |
| Pages: | 124 |
| Description: | A condensed, pocket-sized version of this ISMACS member's weighty Encyclopaedia. A wide selection of machines are listed with lots of information and advice relevant to collectors: badged-machines, shuttle and bobbin case I.D., etc. Hundreds of B&W photos but not the best printing. Possibly still available from the author who also occasionally lists them on eBay. |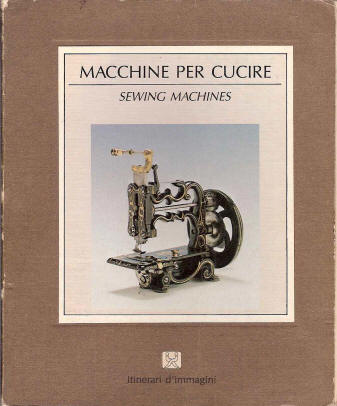 Macchine per Cucire
| | |
| --- | --- |
| Author: | Darla Leoni |
| Publisher: | BE-MA Editrice, Milan. Itinerari d'immagini no. 19 |
| Format: | 6 ½" x 5". Paperback. Colour photos. Bi-lingual text in English and Italian. |
| Date: | 1988 |
| Pages: | 142 |
| ISBN: | 88-7143-067-0 |
| | Well-photographed selection of mostly European machines - domestics and some toys and industrials – each with a brief explanation. Reflects the wide variety of styles and function over the years, with an accompanying historical commentary. Very pretty but choc full of errors. Even the Canadian Raymond on the cover is called an Original Express (German) made by Shaw & Clark (American). |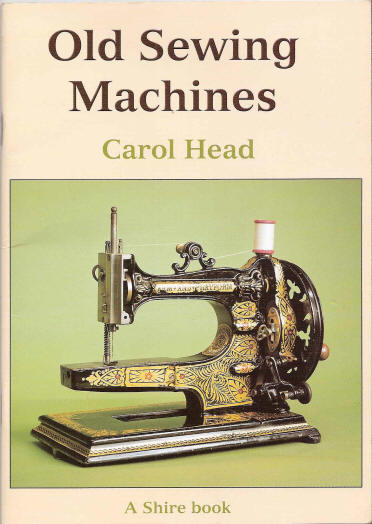 Old Sewing Machines
| | |
| --- | --- |
| Author: | Carol Head |
| Publisher: | Shire Publications, Cromwell House, Church St, Princes Risborough, Buckinghamshire, HP27 9AA, UK. www.shirebooks.co.uk (Shire Album No. 84) |
| Format: | 8" x 6", B&W photos |
| Date: | 1982 to 2004 |
| Pages: | 32 |
| ISBN: | 0 85263 591 5 |
| | This well-illustrated introduction, casually picked up in bookshops, museums and antique fairs, has been the inspiration for many a collection. The history doesn't change but here it's told with more reference to British and European manufacturers. Shire Publications have been taken over by Osprey Publishing and it is believed this is being reprinted. |

Sewing Machines
| | |
| --- | --- |
| Author: | K.R. Gilbert |
| Publisher: | A Science Museum illustrated booklet. Her Majesty's Stationery Office, London, U.K. |
| Format: | 6" x 6", colour photos |
| Date: | 1970 |
| Pages: | 48 |
| ISBN: | 11 290090-9 |
| | A brief introduction to the history and simple mechanics of sewing machinery. Twenty of the museum's machines, representing various advances in the early technology, are pictured and discussed; including Howe's 1849 third-ever machine, Thomas Saint's model from 1790 and Thimonnier's 1830 wooden wonder. Includes a short, but accurate, sewing-machine history. |
The Sewing Machine, Its Invention & Development
| | |
| --- | --- |
| Author: | Grace Rogers Cooper |
| Publisher: | The Smithsonian Institute Press, Washington, D.C. |
| Format: | 11" x 8½", Hardback, B&W. |
| Date: | 1976-1985 & 2006 (reprint)* |
| Pages: | 238 |
| ISBN: | 0-87474-330-3 |
| | Probably THE reference book for collectors of American machines. An improved and expanded version of the same author's 'The Invention of the Sewing Machine', carrying the story into the 20th century. Plenty of photographs, production data, and manufacturers' details, etc. etc. Out of print and often expensive to buy but downloadable free from The Smithsonian. The book lacks an illustration index but one has now been produced by ISMACS and is available on request. |
| *Note: | I have a copy, reprinted on inferior paper in 2006, with "Antique Sewing Machines Souvenir Edition" embossed on the title page. I have no idea what that means but the printing doesn't come close to the elegant Smithsonian volumes. It has all the hall-marks of a budget-conscious reprint. If provenance is important, this will be worth checking. |
Sewing Machine Recognition Manual
| | |
| --- | --- |
| Publisher: | Singer Company (UK) Ltd., Service Division, Form 8531 (rev 153) |
| Format: | 10" x 6", paperback |
| Date: | 1982 |
| Pages: | 82 |
| | In-house publication for sales staff listing almost every domestic S.M. produced by Singer (incl. Merrit, Capri & Panoramic) between 1865 and 1982. 126 of them. The 12K & 13K are covered but, curiously, no mention of the I.F., 101 or 115 which suggests this is the range available in the U.K.. Cross-indexed by group and model number; with pictures, minimal descriptions, years of manufacture, etc. Some years ago ISMACS reprinted this publication for members, but stocks have gone. |
Sincere's History of the Sewing Machine
| | |
| --- | --- |
| Author: | William Ewers & H.W. Baylor with H.H. Kenaga |
| Publisher: | The Sincere Press, Phoenix, Arizona. |
| Format: | 10½" x 8", B&W illustrations |
| Date: | First printing 1970, reprinted 2007* |
| Pages: | 256 |
| | The history of sewing machines told with photographs and patent drawings of many of the major machines, from Thimonnier to the impact of post-WWII Japanese imports, with much of it drawn from Cooper's book. The authors ran a sewing machine franchise in Phoenix, Arizona and tell an eclectic story from a dealer's perspective; providing candid recollections of marketing and sales techniques in a notoriously competitive business. |
| *Note: | A reprint was the subject of an Internet fraud and is not available. Beware any suggestion that new copies are available as, there appear to be recent reprints of this book surfacing. Mine is clearly reprinted - every halftone photograph is patterned with cross-screening, which renders many of them undecipherable. The revisions amount to an errata page; an extra line typed into the Contents and the title page embossed with a stamp proclaiming, "Antique sewing machines souvenir edition". Caveat emptor. |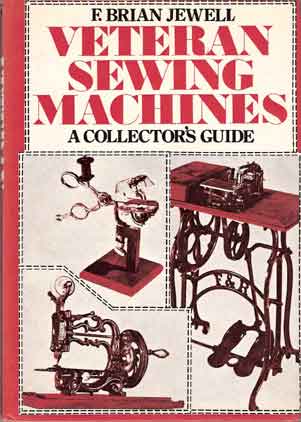 Veteran Sewing Machines (A Collector's Guide)
| | |
| --- | --- |
| Author: | F. Brian Jewell |
| Publisher: | David & Charles, Newton Abbott, London, Vancouver |
| Format: | 8½" x 6", hardback |
| Date: | 1975 |
| Pages: | 172 |
| ISBN: | 0 7153 6673 4 (Dewey: 681.7677) |
| | A cross-referenced directory of, manufacturers and marques with B/W illustrations and photographs and, sadly, considerable factual errors. Helpful for tracing makers of badged machines. Also includes the history and evolution of sewing machines with brief chapters on British and European machinery, a chronology and a list of important collections and museums. See also the author's 'Antique Sewing Machines'. |
ISMACS News
Authors:

Members & guests of ISMACS

Publisher:

International Sewing Machine Collectors' Society.

Format:

A4. Colour/B&W magazine.

Date:

Quarterly. Free to ISMACS members.

Pages:

It varies. Write something and it will be bigger. Detailed, illustrated articles on a variety of makers, machines and sewing machine-related fascinobilia. Copies of recent issues and photocopies of earlier editions are usually available.